Motorized Scooterboard
List of group members
Dakota Rich
Ritchie Nicholson
Dustin Childress
Harold Balthrop
Abstract
This project consists of designing a motorized scooter board where the user lies flat on their stomach and steering is controlled by a weight shift on the elbows.
Introduction
We met with Melissa Draper for the motorized scooter board project. This device will be used by numerous disabled children, but needs to be designed to the specs of one child in particular. We did not get to meet with him as he was absent but we got to sit in on a child who was similar to him in condition. They have impaired strength in their shoulders, thus the whole motivation behind this scooterboard is to help with the children's sensory impairment and to build up strength in their upper body.
The scooter needs to support around 60 lbs. It needs to be around 5 feet long and at least 16 inches wide. The scooter needs to have some type of harness to secure the child on the device because of their lack of upper body strength to hold them on the scooter. Mrs. Draper requested that the therapist have control of the speed of the scooter rather than the children. It needs to be designed so that the child's weight shift on his elbows controls the steering ideally while laying flat on their stomach. The child we set in could apply approximately 40 lbs through his elbow on a weight shift. It needs to be low speed for the safety of the children.
Design Specifications
The scooter board should be about 5 ft long and at least 16 inches wide. It needs to be able to hold a capacity of about 60 lbs. It needs to be designed so that the forearms are to be parallel to each other. Safety is of paramount importance since the children are unable to protect themselves from falls. A small electric motor would suffice for the low speeds in which the therapists desire it to travel. The turning radius needs to be such that the children can maneuver through cones and different courses. The wheel base should be wide for the safety of the children. Ideally the motor would be able to be controlled with a remote.
Design Concepts
We have developed three different designs for this project. The first is motivated by the design of a toy known as the Rip Stik, which is similar to a skateboard but uses caster wheels and a center pivot instead of trucks. The second design utilizes a mechanical lever and pulley system controlled by the elbows. The third uses force sensing pads to drive an actuator to control the steering. All are three wheeled, flat board designs (one in front, two in back). All use a rear-wheel drive chassis powered by a small electric motor, which would be controlled by the therapist either remotely or through a tethered control box.
Design Concept 1
This design is inspired by the Rip Stik, which is a type of skateboard that uses caster wheels in conjunction with an axially twisting board. These images show our inspiration, the Rip Stik, followed by a hand drawn picture of our design, then by a top and rear view drawing rendered in AutoCAD. This scooter will be powered by an electric motor with a chain and two sprockets to drive the rear wheels, and is steered by shifting one's weight to twist the front half of the board and thus turn the caster wheel.
PROS
Twists in the center- no complicated mechanisms
Side rails for safety (as well as safety harness)
Intuitive steering
CONS
Possible difficulty in returning to neutral if it twists too far (spring assisted return?)
May be targeting abdominal muscles more than shoulders and arms
Twisting in the center may not be comfortable if twist is significant (padding for the gap)
Design Concept 2
This is a hand drawn design of a different concept. Unlike the first, it uses a single flat piece for the board, instead utilizing a mechanical system of levers and pulleys for steering. Pushing on the levers with the elbows turns the board.
PROS
Single board- stability
Intuitive turning- lean the direction you want to turn
Relatively simple mechanism with 1:1 input
CONS
Pulley system could break or come apart (utilize channels for cabling)
Force required may be too great for the children
Applying force to push one lever down will pull the other lever up in response
Design Concept 3
Our third design utilizes a single flat board as well, but instead force sensors are used to measure the child's input. These sensors then drive an actuator to turn the front wheel.
PROS
Input could be adjustable to the child's needs
Can handle of wide variety of children of different ability
Easier to shift weight back to neutral
CONS
More power hungry
Possible difficulty in wiring
No force feedback from the sensor
Concept Evaluation
Design Overview
For our final design decision, we made a chart and graded our three designs based off of parameters we deemed important for the design.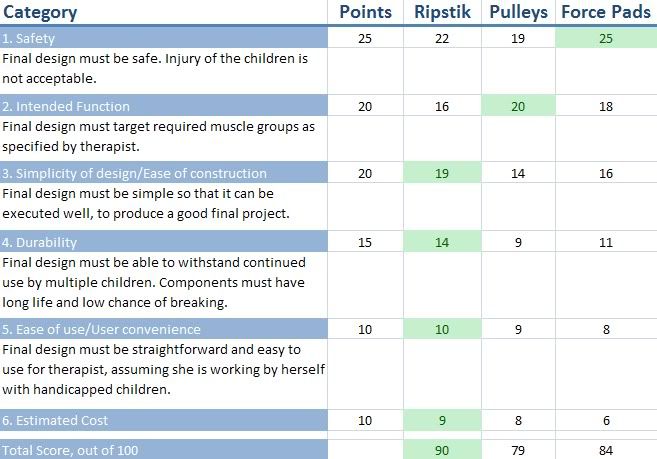 Our final design is an optimization of our first design based off of the Ripstik. It is the simplest design out of the three, and has the potential to produce the best final product before the delivery deadline. What is shown here is the core of the overall design; this is the minimum we have set for the design in order to ensure delivery of a finished product on time. There are additional modifications and special features we would like to include if possible, and we would appreciate any input you can provide on how to implement these features.
DESIGN FEATURES
Torsion spring for assisted return to neutral position
Single center-mounted drive wheel, tether controlled with onboard emergency kill switch
Flexonite wheels for grip on smooth indoor surfaces
Battery powered (power wheels batteries last 1-3 hours)
Large board body with variety of removable foam bolsters to accommodate a large range of different children
DESIGN ELEMENTS TO BE INCORPORATED IF TIME ALLOWS
Remote Control Operation (for therapist)
Variable Speed (Hi: 4mph, Low: 2mph, Off, Reverse)
Engineering analysis 1
Motor analysis. With a desired maximum speed of 4mph, our calculations show we need a 0.1303 hp motor to power the scooter.

We found a suitable motor for our purposes, but did not realize that it was an air motor until 2 hours ago.
Engineering analysis 2
Front caster wheel assembly simple force analysis.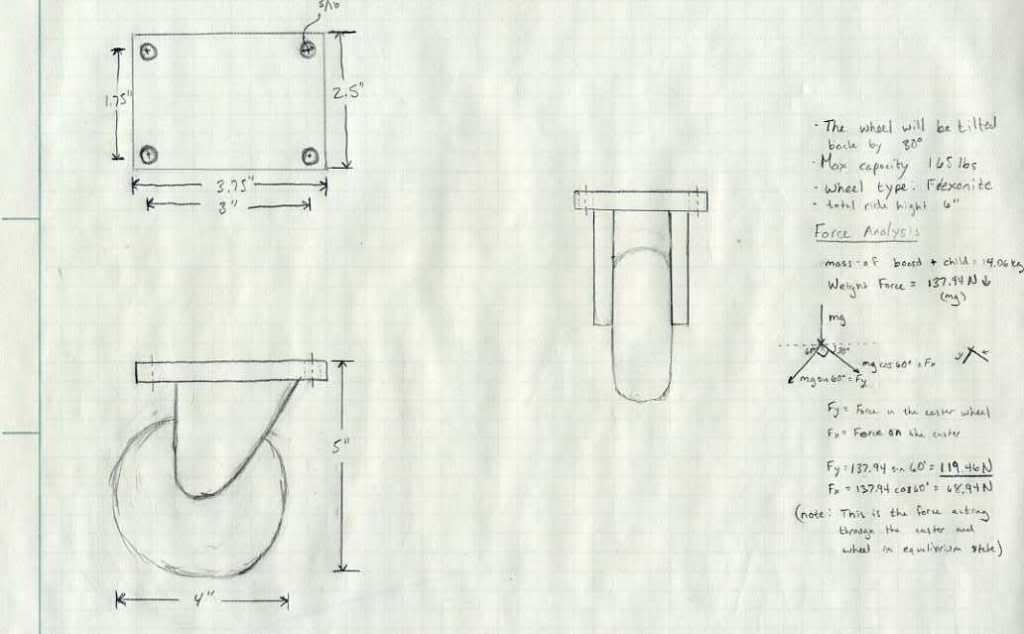 Engineering analysis 3
Torsion spring analysis. We calculated a spring constant for the torsion spring in the event we decided to fabricate the support bar ourselves. Our design currently calls for an off the shelf replacement Ripstik torsion bar for ease.

Unforeseen Developments
We had chosen a motor for our design based off of our calculations in the analysis, but we did not realize that it was an air motor until much later. We have decided to adapt the motor/gearbox combination out of a Power Wheels Jeep to drive our board.
Bill of Materials
Part
Origin
Part #
Price ($)
Rip Stick Torsion Bar
Online
W15055099194
20.00
3 Caster Wheels
Online
T9AB355343
50.00
4'x8' Sheet of Plywood
Lowe's
unknown
30.00
10' 2x6
Lowe's
unknown
10.00
Foam Pad 1.5"
Hobby Lobby
unknown
25.00
Velcro
Hobby Lobby
unknown
10.00
Vinyl Fabric
Hobby Lobby
unknown
15.00
Drivetrain Wheel
Online
unknown
unknown
Paint/ Misc. Hardware
Lowe's
unknown
$40
Power Wheels Jeep*
Walmart
N1476
200.00
Total Price
est. $450-500
UPDATED 4/8/11 Bill of Materials
*All items found online for ease of ordering. Shipping prices/sales tax are not accounted for in estimate. Walmart and Lowe's offer free shipping for in-store pickup.
Part Drawings
Assembly Instructions
Include as many descriptive pictures as possible.
Implemented Design
Include pictures of the final product.
Summary and Conclusions
page revision: 63, last edited:
08 Apr 2011 06:18